KMRD + Feed My Starving Children MobilePack 2022
Behind the Scenes at a 'Feed My Starving Children' Meal Pack
On a Thursday evening in early October, the multi-purpose room at Delaware Valley University in Doylestown, Pa., was transformed from a large, empty room into a low-tech factory with dozens of production lines.
Over the next four days, more than 3,000 volunteers working in small teams over two-hour shifts scooped, funneled, bagged, weighed, sealed, packed, boxed and put onto pallets nearly 900,000 meals designed to be nutritious and easy to eat. By the next Tuesday morning, the room was empty again, and four tractor-trailers were out on the road, loaded up with 115 pallets of food that will eventually make their way by ship to a country whose population is suffering from severe hunger.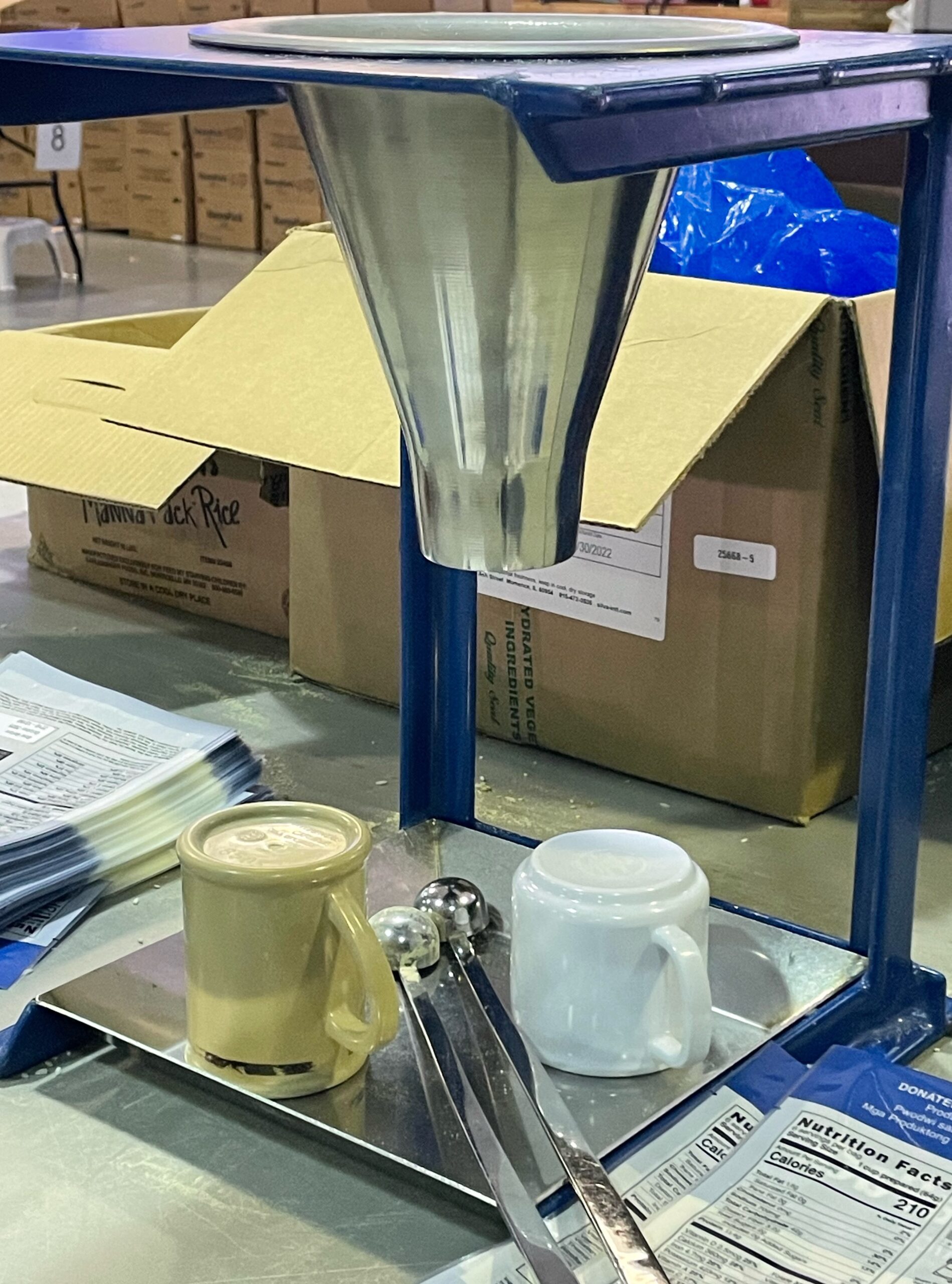 These pop-up food factories – called mobile packs – happen all across the country on any given day. They are the brainchild of Feed My Starving Children, a 35-year-old organization that seeks to address hunger in developing nations. In addition to the mobile packs, the organization operates eight continuous packing events at permanent sites around the country. 
With most U.S. food banks focused exclusively on serving their surrounding communities, FMSC stands apart for its focus on global hunger. Only two of the nation's largest food banks (both of them independent, meaning they are not part of the Feeding America network) include global hunger as part of their missions:  Midwest Food Bank of Normal, Ill., sends its Tender Mercies meal packets to East Africa and Haiti, and Oklahoma City-based Feed the Children serves a handful of African and Latin American countries, and the Philippines. 
Globally, the number of people who are food insecure is as high as 828 million, according to the World Food Programme. More alarming is the number of people facing acute food insecurity and malnutrition, estimated by the WFP to be 345 million people in 2022, up nearly three times from 135 million in 2019. FMSC frames global hunger in starker terms, reporting that 6,200 children die every day from malnutrition. 
These heartbreaking statistics fuel the engagement of the many volunteers required to pull off a mobile pack. FMSC supplies the equipment, such as funnels, bags and boxes, as well as the four raw materials that make up the meals – rice, soy protein, vegetarian flavoring and dehydrated vegetables. 
Everything else comes together through the work of a committed host who steps up to sponsor an individual mobile pack. The host recruits volunteers, including groups from churches, schools and corporations, and finds a space big enough to house the operation, along with a parking lot for the trucks. 
Importantly, the host commits to provide the funding for a minimum of 100,000 meals (at 24 cents a meal). At the Doylestown mobile pack, host Kevin McPoyle, who is President of KMRD Partners, an insurance and risk management firm (and also serves as a board member of Food Bank News), was personally on the hook for $240,000 to reach a goal of one million meals.
Having hosted a number of mobile packs already, McPoyle was not worried. "Every year, I never start with enough people or enough money. And every year, I end up with enough people and enough money," he said. 
McPoyle's four-day Doylestown mobile pack — an upbeat event punctuated with loud cheers every time another box of 36 meals was packed — produced enough meals for nearly 2,500 kids to get a hot meal every day for a year. It added to FMSC's overall impact of providing more than 398 million meals over the past year, enough to feed more than one million kids for a year.
McPoyle noted, "Really, they get hope they didn't have before." – C.C.
 To learn more about Feed My Starving Children or how to donate and volunteer please visit below:
About KMRD Partners
KMRD Partners, Inc. assists clients with risk and human capital strategies focusing on individuals, high net worth executives, and businesses with 1-20K employees.  Our team of experts consults on risk identification and mitigation strategies, commercial & personal property, casualty health insurance, and human resource strategies & compliance. Our "roll up our sleeves" approach emphasizes collaboration, transparency, accountability, data analytics, and attention to detail. For more information, contact KMRD online or call 866-957-5673. Follow KMRD on Twitter @KMRDPartners, Facebook, and LinkedIn.
Want to join KMRD? Visit our careers website to learn more about our leadership, culture and job opportunities.
---
Contact UsMeet the KMRD Team About KMRD
---